Podcast: Play in new window | Download
Subscribe: RSS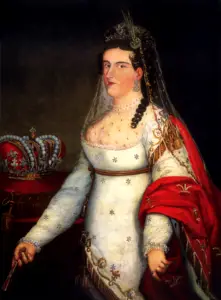 It was a dreary day in London in April of 1824.  Her Imperial Majesty, Empress Ana María of Mexico, stood on a stone balcony and contemplated her future and the future of her family.  She had just found out that she was pregnant with her tenth child and the 38 year old monarch, now living in exile in England was wondering if her new baby would be born on Mexican soil.  The Empress hated living abroad and missed the sunny mild climate of central Mexico where her family had lived for centuries.  She was hopeful, as letters began coming to England from Mexico pleading for the return of her husband, Emperor Agustín the First, to come back to his country to reclaim his throne.  Empress Ana María would get her wish on May 11, 1824 when the boat "Spring" would disembark from Southampton to take her, her husband, two of her children and a small entourage back to her homeland.  She was delighted to leave England.  She was miserable there.
The woman who would become the first empress of Mexico did not have humble beginnings.  She was born Ana María Josefa Ramona Huarte y Muñiz on January 17, 1786 in Valladolid, New Spain, now Morelia, Michoacán, Mexico.  She was from one of the most prominent families in all of Nueva España.  Her father was Isidro Huarte, a peninsular born in Navarre in the northeastern part of Spain, had accumulated great wealth after coming to Mexico and was thus able to marry Ana María's mother, Ana Manuela Sánchez de Tagle, who hailed from one of the most influential families in the Spanish Empire.  Ana Manuela, the future empress' mother, was the great great granddaughter of the brother of the first Marquis de Altamira, a man named Luis Sánchez de Tagle.  Sánchez de Tagle had business interests from Chile through Peru and New Spain all the way to the Spanish Philippines.  The marquis was so wealthy that he loaned the Spanish king almost 1.4 million pesos in silver and gold.  The House of Tagle was ennobled by King Philip the Fifth of Spain and Sánchez de Tagle became the First Marquis of Altamira.  The wealth of this family was so immense that over a century after Sánchez de Tagle the future empress of Mexico lived in absolute comfort and was part of the unofficial aristocracy of New Spain.  As an interesting aside, the House of Tagle also produced a modern "royal" notable:  The King of Latin Pop, Enrique Iglesias also descends from the Marquis de Altamira, on his mother's side.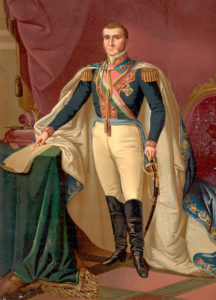 As a young girl, the future empress was known for her intelligence, beauty and impeccable reputation.  At the Colegio de Santa María in Valladolid, Ana María distinguished herself as an excellent student and accomplished musician.  The well-mannered Ana María was in a good position to marry well, and at the age of 18 she caught the attention of Agustín de Iturbide, a young man from the landed gentry of New Spain whose ancestors hailed from the minor nobility of the Spanish kingdom of Aragon and had been influential in the mother country for centuries.  Although Iturbide's family owned several haciendas throughout central Mexico, as a teen the young Agustín enlisted in the royalist army, eventually achieving rank of lieutenant.  Agustín and Ana María were married in the cathedral in modern-day Morelia on February 27, 1805.  Ana María's dowry was one hundred thousand pesos, and with it, the couple bought a hacienda and a large house in the town of Maravatio.
In the early 1800s, there was great unrest in colonial New Spain.  Iturbide was called to various parts of the country to suppress rebellions against the Spanish Crown and thus was away from his wife and children for long periods of time.  He had the reputation of being quite the carouser, enjoying gambling and affairs with other women.  Ana María saw little of her husband during this time and the gossip of his activities reached her, causing her to go into a deep depression.  She found solace in her children and in desserts, her favorite candy being one made of milk and nuts.  As a result of her overindulgence in an attempt to wash away her sorrow, the future empress became fat, sick and miserable.  Iturbide, meanwhile, honed his skills as a cunning military leader and his power and influence increased.  When the small rebellions congealed under the direction of Father Hidalgo, who is seen as the Father of Mexican Independence, the rebel priest asked Iturbide if he would lead the army to liberate Mexico from the Spanish and offered him the title of general.  Citing atrocities committed against Spanish civilians, Iturbide refused and continued to fight on the side of the Spanish royalists.  In 1816 Iturbide switched sides when he was relieved of command by the Viceroy of New Spain under accusations of embezzlement of military funds, for treating civilians unjustly and for profiting from monopolies in territories under his direct military command.  Although later reinstated, Iturbide could not forget his humiliation, and switched sides to fight against the royalists once he saw the political situation in Spain deteriorate.  At the time of Mexico's formal break from Spain, Iturbide was the head of the army and eventually became head of the new nation called Mexico.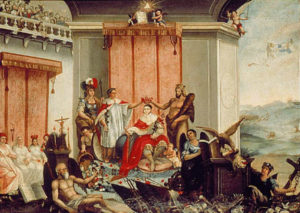 Ana María's influence and power grew in Mexican society as her husband ascended.  Although she continued to bear Agustín's children, they didn't have much of a marriage and Ana María lived a somewhat sequestered life spending most of her time with her family and occasionally entertaining visits from female members of higher social classes.  She often spent hours in prayer or in religious study.  The events happening around her, eventually compelled Ana María to forgive her husband's indiscretions – for the good of Mexico – and support her husband in his new role as leader and later, Emperor of the new nation. Alongside her husband, Ana María was crowned at the Metropolitan Cathedral in Mexico City on July 21, 1822.  She was thereafter styled, "Her Imperial Highness Empress of Mexico."
The Mexican government granted the royal couple one and a half million pesos to take care of their expenses.  With what seemed like unlimited resources at her disposal, the new empress took quickly to the task of setting up court.  The imperial family maintained two residences, the former palace of the viceroy in Mexico City and the 18th Century palace of the Marquis de San Mateo Valparaíso.  Empress Ana María had a very large staff, even by European standards.  She had a head lady, nine ladies in waiting, several ladies of the wardrobe, several ladies of the chamber, nine honorary ladies, a personal doctor, and governesses, tutors and assorted servants for her 9 children.  This did not include household servants at the two residences.  She had a vast wardrobe and began acquiring expensive jewelry.  The royal family was soon under great scrutiny for their extravagant lifestyle, especially after the emperor imposed a property tax to pay for the expanded government.  The tax affected the landed elites and many of the powerful Mexican upper classes grew to despise the imperial family, especially Empress Ana María who came off as a figure reminiscent of Marie Antoinette.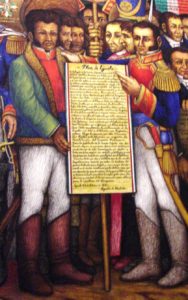 When cracks in the young monarchy began to show, liberal elites of Mexico began to conspire against the imperial family, aided by international Freemasons and the special US Envoy to Mexico, Joel Poinsett.  The US under James Monroe did not want an imperialist expansionistic monarchy on its borders, especially a European one, and the Plan de Iguala originally drawn up by the provisional Mexican government before Iturbide assumed the throne called for a European monarch to rule over Mexico.  The US questioned Iturbide's intentions and whether or not he planned on keeping the throne or handing it off to someone else.  Domestically, during this time, General Lopez de Santa Anna declared publicly his opposition to the monarchy and had great support among the military.  While the Catholic Church wholeheartedly supported the Emperor, the elected Congress did not.  No country would recognize the legitimacy of the Mexican Empire for fear of Spanish reprisals.   As public animosity toward the royal family increased and violence seemed inevitable, Empress Ana María abandoned the palaces and took her children to hide out in a convent.  On March 19, 1823 Agustín I was forced to abdicate his throne and the Mexican Empire ended less than a year after it began.
The Mexican imperial family was taken in by Grand Duke Ferdinand III of Tuscany, but their stay on the Italian Peninsula was brief due to pressure from the Spanish king.  The family then took refuge in England under the protection of King George IV.  By the spring of 1824 Iturbide had been convinced that Mexico wanted him back as emperor and began planning for his return.  Many people in Mexico, however, including the current rulers, had no desire to have a continuation of the country's limited experiment with monarchy.  So, not knowing the true nature of the political situation back home, Iturbide returned to Mexico accompanied by his loyal wife, two of his children and a small staff of attendees.  Alerted of their ship's approach, the army was sent to the coast to apprehend the emperor and his family.  Iturbide was immediately executed by firing squad.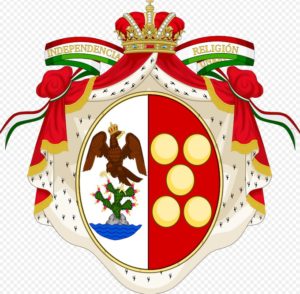 Empress Ana María was left in a difficult situation.  Few of her friends in the Mexican aristocracy would help her, but the Mexican Congress was not without compassion for the new widow who was pregnant and had 9 other children to take care of.  They agreed to give her a pension for life and passage to South America, but the boat that was promised to take her and her children to Colombia never arrived.  Instead, the family decided to board a boat headed for New Orleans.  Soon after arriving in the United States, Ana María gave birth to her tenth child and named him Agustín Cosme.  With her ten children in tow, the former empress moved to Baltimore, then to Georgetown, and eventually settled in Philadelphia.  With the many changes in governments in Mexico, Ana María was constantly petitioning those in power in her former realm to honor the pension that was promised to her, which was her only source of income.  She even appealed to President James K. Polk to intervene on her behalf, but he refused to help her.  The former empress got by the best she could selling off family valuables to ensure that he children received excellent educations and she maintained her dignity even through the death of two of her daughters and through the marriage of one of her sons to an American woman, of whom she silently disapproved.  Ana María never gave up hope that her children's proper inheritance would be restored to them, and the titles, honors and properties would be fully reinstated by a sympathetic Mexican government.  While she continued to hope, Ana María did the best she could in Philadelphia and spent most of her time involved with activities at her local church, St. John the Evangelist, to which she donated many of her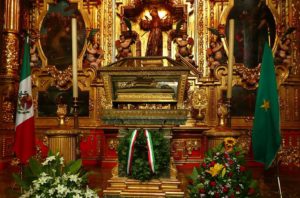 personal possessions in her final years.  On the eve of America's Civil War, on March 21, 1861, Her Imperial Majesty Empress Ana María of Mexico passed away at the age of 75 in Philadelphia.  Her funeral was a simple one and not well attended.  While the Mexicans eventually granted full honors to her husband and interred his remains in the Metropolitan Cathedral, the site of the imperial coronation of 1822, they seemed to forget all about Ana María.  She was laid to rest at the church that gave her comfort, St. John the Evangelist in downtown Philadelphia, and it is there where she remains to this day.  In death she has a curious distinction:  She is the only foreign monarch – besides members of the royal family of Hawaii – to be buried on American soil.
REFERENCES (This is not a formal bibliography)
History of Mexico by Burton Kirkwood
"The Mad Monarchist" web site