Podcast: Play in new window | Download
Subscribe: RSS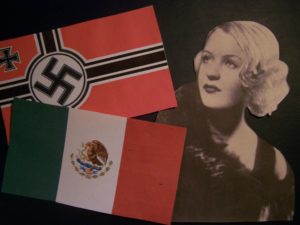 The year is 1941.  While it seemed the whole world would explode in the powder keg of war, in one of the many French-Revival mansions in the upscale Colonia Roma neighborhood of Mexico City an elaborate party was about to begin.  The gathering included noted industrialists, artists, members of the social and intellectual elite of Mexico and young politicians.  On the guest list was Miguel Alemán, the Mexican Secretary of the Interior, who 5 years later would be president of Mexico.  Soon after the handsome Interior Minister arrived at the gala, a young woman entered the room accompanied by Ramón Betata, who served as Mexico's Undersecretary for Foreign Relations.  The platinum-blonde young woman, who instantly commanded the attention of the entire party, was Hilde Krüger a German-born movie actress who had recently arrived in Mexico via Hollywood.  The future president of Mexico, Alemán, whose name in Spanish, ironically, means "German," finally caught the attention of this Teutonic goddess and stole a few moments away to chat with her privately.  To Hilde, the influential man before her was just another person of influence to add to her ever-growing circle and the party was just another lavish event on her social calendar.  She smiled, sipped her drink and chatted flirtatiously with the future president.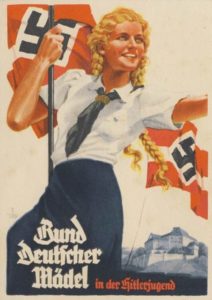 After many years of research from history buffs and cinematic biographers, Hilde Krüger's life remains somewhat enigmatic.  There are two sources with conflicting dates and places of her birth.  In one, she is born in Cologne, Gemany in 1912.  Another source cites that she was born in Berlin in 1914.  She did seem to spend her early childhood in Berlin and as a teenager she became a stage actress.  By the early 1930s, on the eve of the Nazis coming to power in Germany, the young Hilde distinguished herself as a budding film star and modeled for fashion magazines and cigarette cards.  It was after Hilde's appearance in a 1934 film that she caught the eye of Joseph Goebbels, the Minister of Propaganda for the new Hitler government who also controlled the German film industry.  Goebbels cast the buxom blonde blue-eyed Krüger in propaganda films to promote the glory of the new Third Reich, but even a powerful man such as Goebbels was not immune from her charms.  Goebbels wife, Magda Goebbels, knew of the affair between her husband and the young starlet and not coincidentally Hilde's roles in the German film industry dried up.  Goebbels tried passing Hilde off to the Gestapo, the secret state police of National Socialist Germany, but she eventually caught the attention of the Abwehr, Germany's military intelligence agency.  Hilde was personally recruited by Admiral Wilhelm Canaris, the head of the Abwehr.  Canaris was no fan of the Nazis, but he was a German patriot having distinguished himself in the First World War for saving his ship, the SMS Dresden, in a 1914 battle with the British in the South Atlantic called the Battle of the Falklands.  Canaris would later be captured and escape his captors after his ship ran aground in Chile's Juan Fernandez Islands.  Canaris had a deep interest in Latin America having spent most of his seafaring career in South American waters, and knew of the need to gather intelligence from this area of the world to help Germany.  He had a plan for the beautiful and alluring Hilde.

In 1940, after a brief sojourn in England, Hilde Krüger arrived in Hollywood.  She never became the star that some had expected her to be, but she did burst onto the social scene and moved in influential circles, capturing the attention of swashbuckling actor Errol Flynn and American oil millionaire John Paul Getty, on whose arm she could be seen at parties and movie premieres.  She was also associated with Gert von Gontard, the heir to the Budweiser beer fortune, with reports of her traveling between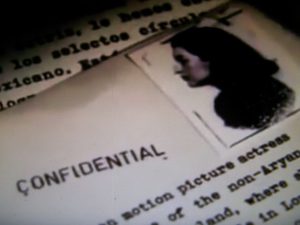 Los Angeles and St. Louis, where the King of Beers is headquartered. There are some reports that Hilde had married a German-American businessman during the brief time she was in the States, but this does not fit the greater narrative of her time in America.  At the time the FBI and the OSS had been watching Kruger and had wondered who was paying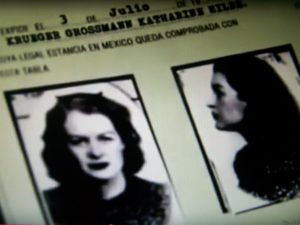 her bills.  The actress did not get many parts in Hollywood and so how could she afford her luxury suite at the Beverly Wilshire Hotel, her beautiful clothes and fashionable jewelry?  Who was behind this?  The Gestapo?  German military intelligence?  Joseph Goebbels himself?  In an FBI file declassified in 1985 we found that the agency figured it out.  Oilman Getty was paying her bills, and after it became clear that the United States would most likely side with the British in the eventual war with Germany, Getty arranged for Hilde's travel documents to get her into Mexico.  This was in early 1941.
By the time of Hilde Krüger's arrival in Mexico, German propaganda had been flooding the Mexican media for over half a decade.  Arthur Dietrich, the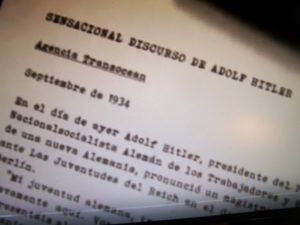 press attaché at the German embassy in Mexico City, fed the two major newspapers, Excelsior and El Universal, a steady stream of pro-Third-Reich news stories.  He even was instrumental in founding a high-culture magazine called Timon, to help disseminate the message of the new German Reich among the more educated Mexican readers.  By the late 1930s, public opinion in Mexico was being swayed in favor of Germany, much to the regret of the Americans and British.  Scholars argue that one of the main reasons for the 1938 nationalization of Mexico's oil industry was due to pressure from Adolf Hitler and fascist Italy's Benito Mussolini.  The American and British companies that formerly controlled Mexico's oil production were not selling to the Axis Powers and Hitler had his eyes on Mexico's petroleum to help fuel the Luftwaffe and the rest of the growing German military machine.  As soon as the nationalization was complete, oil tankers left the port of Veracruz for refineries in Hamburg.  Arthur Dietrich's propaganda machine in Mexico not only helped win sympathy for Germany's cause in that country, it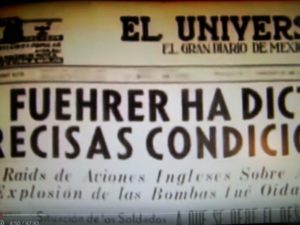 inspired hundreds of Mexicans of German ancestry to return to the Fatherland and help in building Hitler's new society.  Others were recruited to help on the Mexican home front.  This is when Operation Pastorius was born.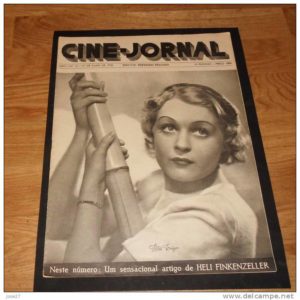 Operation Pastorius, developed by German military intelligence and carried out by two dozen Mexicans of German heritage, had several objectives.  Its nexus of operations was in the northern Mexican industrial city of Monterrey and its primary purpose was to assess military capabilities of the United States.  Its other purposes included industrial espionage against the Americans and the smuggling of strategic raw materials such as mercury and tungsten out of Mexico.  The head of the spies in Monterrey was Georg Nicolaus whose cover was working for Blaupunkt, a small German electronics firm.  Another major spy was Otto Guido Moebius whose father founded Mexican megabank Banorte, and who owned several businesses in northern Mexico, including a chemical plant on the top of which was erected a massive radio antenna that would connect him directly with Berlin.  In the midst of all of this was Hilde Krüger who was passing along information she received from Nicolaus and Moebius to the head of military intelligence, Wilhelm Canaris.  Hilde's time with the Monterrey spies is pretty murky and it is unclear who she was working for at this time.  By late 1941 Canaris had grown resentful of the Nazis and began working for the underground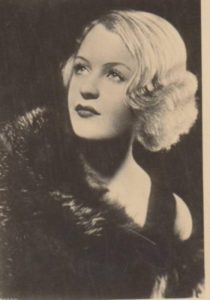 resistance to oust Hitler from power.  So, we will never know if Hilde was working for the Nazis or indirectly working for the German resistance at the time, or whether or not she knew who she was working for.  One can only wonder what back room deals were made between her and those in power for her own survival.  As a footnote, her mentor Canaris would face execution for his involvement in the 1943 Generals Plot, a plan to assassinate Adolf Hitler.
After the United States declared war on the Axis Powers in December of 1941, the Americans put increasing pressure on the Mexicans to give up their neutrality and take sides in the war.  In January of 1942 Mexican President Manuel Avila Camacho allowed the US to use Mexico's ports and airfields for the war effort.  Also that month, the US pressured Mexico to deal with Nazi spies in its territory and to end the propaganda coming from Arthur Dietrich's office at the German embassy in Mexico City.  Dietrich was expelled from the country, and the US government handed over a list of 24 people who were part of Operation Pastorius in Monterrey.  All 24 on this black list, except one, were arrested and sent to a hard labor prison in Perote, in the Mexican state of Veracruz.  The lone person given clemency was none other than Hilde Krüger.
Mexico declared war on Germany on May 25, 1942.  Hilde Krüger remained in Mexico and went on to make 4 feature films:  "Casa de Mujeres" – "House of Women"- in 1942 and three films in 1945.  Those films were "Adulterio" ("Adultery"), "El que murió de amor" ("He who Died of Love"), and "Bartolo toca la flauta" ("Bartolo Plays the Flute").  There were rumors in the press of her secret life and there was some pressure to have her deported in the days after Operation Pastorius.  Hilde solved her problems once again by using her associations with the influential.  In 1942 she married Nacho de la Torre, a wealthy businessman and grandson of former president of Mexico, Porfirio Díaz.  De la Torre suggested she enroll in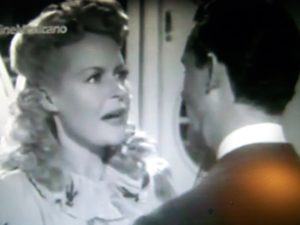 UNAM, Mexico's largest university, and earn a degree in Mexican history to learn more about her adoptive country and to further legitimize her stay in Mexico.  Krüger went on to become quite an accomplished scholar, specializing in the era called the Second Empire in which Hapsburg Emperor Maximilian and the Empress Carlota ruled Mexico.  In 1944 Hilde Krüger published her thesis titled La Malinche o el adiós a los mitos – The Malinche, or Goodbye to the Myths – about the life and times of Doña Marina, the beautiful and intelligent indigenous woman who served as the translator and lover to Spanish conquistador Hernán Cortés and helped to overthrow the mighty Aztec Empire.  Undoubtedly, as a woman in a similar situation and faced with difficult choices in the circles of wealth and power in which she moved, Hilde could identify with The Malinche.  You can learn more about the historical Doña Marina, also known as La Malinche, by listening to Episode #20 of "Mexico Unexplained."  As an aside, the artwork for Hilde's book on La Malinche was done by famous Mexican social realist painter José Clemente Orozco.  This just shows how well connected she actually was.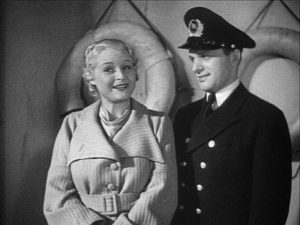 In 1956, Hilde Krüger divorced the grandson of Porfirio Díaz and married the richest man in Cuba, the Venezuelan-born Julio Lobo Olavarría.  The marriage lasted less than a year and with a hefty divorce settlement Hilde relocated to New York City where she set up house in a luxury apartment in Manhattan.  Moving among the wealthy social circles there, she soon married a Russian-born industrialist.  Hilde made one more movie in 1958 called "Zum Goldenen Ochsen" ("The Golden Ox Inn"), a German-Swiss film shot in France, but little is known of her life after this.  Some sources claim she died on a visit to Germany in 1991.  Another source claims that she died at the age of 94 in the year 2008 in Manhattan.  There are so many discrepancies and missing pieces of Hilde's life we may never know how or where she died or what she was really up to during World War II.  To this day, Hilde Krüger remains a somewhat delightful and fascinating enigma.
REFERENCES (Not a formal bibliography)
"Llevarán al cine la vida de Hilde Krüger," in El Porvenir, 1 June 2014 (in Spanish)
"México fue centro de espionaje Nazi," by Juan Alberto Cedillo, in Expansión, 17 October 2009 (in Spanish)
"The Blond Who Came in From the Cold," online article published at The Mex Files by Richard Grabman
Los Nazis en México:  La Operación Pastorius y nuevas revalaciones de la infiltración al sistema político mexicano  by Juan Alberto Cedillo (in Spanish)
"Businessmen in Northern Mexico Spied for Nazis, Author Says," by Julian Rodriguez Marin, in Latin American Herald Tribune